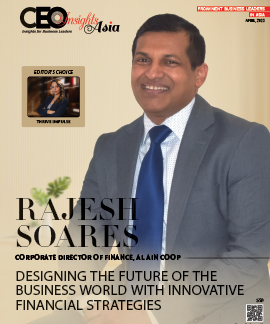 Rajesh Soares: Designing The Future Of The Business World With Innovative Financial Strategies
Mahatma Gandhi once said— "Leadership at one time meant muscles, but today it means inspiring people". CEO Insights' exclusive team rendezvous with an influential business leader, Rajesh Soares, Corporate Director of Finance, Al Ain Coop, who believes in a similar ideology and leads with his ability to connect with people for the purpose of empowering their lives. An adept in Finance & Accounting, Rajesh began his professional journey as the Cost Control Assistant in the hotel industry for Leela Kempinski Hotel in Mumbai. His industryspecific knowledge and strong technical skills enabled him to move to the Sultanate of Oman to take up bigger opportunities that were offered to him by the Intercontinental Hotel Muscat. Soon, he was associated with some of the most luxurious brands in the hotel industry of the Middle East like the Jumeirah Beach Hotel, the Emirates Palace, and the Mall of the Emirates.
Alain Coop 40th Anniversary FestEve
As part of Al Ain coop 40th Anniversary Celebration. "FestEve" -  Prize distribution ceremony,  Cake Decoration Competition and New Year eve Celebration was held in association with Seara Brand   at Markhanya Mall, Bateen Branch, Al Ain on 30th December 2022 from 5.30pm onwards
The Event kick - started with Prize Distribution Ceremony of 40th Anniversary for  Grand Prize GMC SIERRA and 40-gram Gold.  Mr. Ssanjey Gopiinaath-Corporate General Manager, Mr. Prakash-Corporate Retail Operation Manager and Mr. Shameer-Corporate Advt & Marketing Manager Congratulated and handed over the Car Key to the Grand Prize Winner Mr. Hazrat Shah Khan and 40gram Gold Winner Mr. Jamal
Cake Decoration Competition started at around 7pm, by then, crowd started pouring in to witness the competition. It was dazzling to see the Cakes with various flavors and fragrance decorated by the contestants which was mouthwatering.  Celebrity Chef gave judgement for the winners based on  best decoration, perfection, presentation and Taste.  Mrs. Rahmath Salem, Mrs. Rohbana Bilal and Mrs.Wafaa were selected as Winners. Audience were excited to witness decorated Cakes and to taste delicious Cakes brought by all the contestants.
New Year eve programs with live Stage Shows, Songs, D.J's and Game show for men, women, children and needles to mention the Dance Performance highlighted the Show with a team of Professional Dancers with colorful costumes and outstanding performance filled the event and New Year Eve lively and Colorful.
The event  altogether was joyful and everyone had a  pleasant moment and enjoyable evening . The event concluded  with  New year wishes  and welcoming New Year 2023.
Special thanks to the  Management , business partners and Brand Sponsors for joining together to  support, motivate and making the event grand and successful!